Undergraduate Study Abroad
City: Berlin
Partner: Humboldt University
Housing: University student housing or independent shared apartment with local German students
Language Requirements: Third-semester college-level German for the Intermediate track or fifth-semester college-level German for the Advanced track (at Brown GRMN 0300 or GRMN 0500)
Calendar: Full Year or Spring semester
Accepts Non-Brown Students: Yes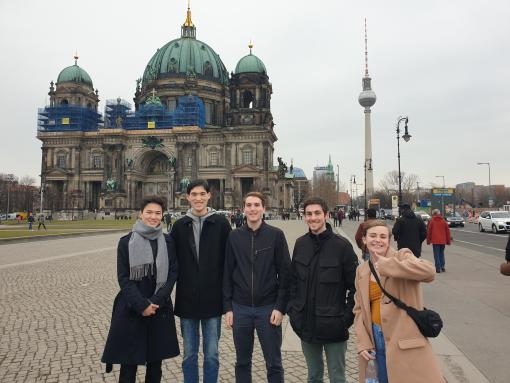 Imagine yourself in the lively capital city of Berlin, where you will find yourself immersed in Germany's rich culture and complex history. Continuing to grapple with the effects of the 1989 reunification while experiencing steady growth of its ethnic minority population, Berlin offers an ideal venue to study the changing face of present-day Europe and a fascinating glimpse into Germany's past, present and future.
Brown's Berlin program begins a month-long orientation that includes a credit-bearing intensive German language course, cultural activities, and visits to different areas of the city. 
Intensive German as a Foreign Language Course
All students enroll in an intensive month-long German language course offered by Humboldt University prior to the start of the regular semester courses. Students who successfully complete this course earn 7 European Credit Transfer System (ECTS) credits, which is the equivalent of one Brown course credit. 
The Advanced level track is a full immersion experience in which students take all of their courses in German at Humboldt University.  Students in the Intermediate track may take advanced level courses in English at Humboldt University. Intermediate level students are required to enroll in a German language course during their regular semester, in addition to the intensive language course during orientation.
Following orientation, students enroll in regular semester courses at Humboldt University. Students must complete a minimum of  25 ECTS for evaluation through a schein (a document confirming that you have completed the course and received a letter grade), which, along with the intensive language course, would allow them to obtain a full semester credit equivalent at Brown. Students may choose from Proseminare, Seminare (junior/senior level courses) or Übungen (lab courses with field trips). Students are encouraged to attend Vorlesungen (lecture courses in which there is no assessed work).  Students may take a maximum of two Vorlesungen and may opt to enroll in one or both for credit. Students who wish to earn credit must arrange with the professor to be given work on which a grade can be assessed. Please visit the Humboldt University course catalog for the most current list of course offerings.
Past program participants have studied history, art history, international studies, political science, religion, German, Medical Studies, natural sciences, chemistry, physics, computer science, comparative literarture, and international relations. Students may enroll in any departments of the university for which they have appropriate academic preparation and are free to take courses in a maximum of two departments.
In addition to academic programs, students have pursued internships at art galleries, the Aspen Institute, and the American embassy. 
Humboldt University
Founded in 1810 by the Prussian king, Friedrich Wilhelm III, Humboldt University's mission has long been to achieve a unity of teaching and research and provide students with an all-around humanist education. By drawing on and contributing to the rich history and cultural life of the city, Humboldt has remained true to its principles and become an internationally acclaimed institution.
Academic Calendar
Participants may enroll for either the spring semester or the full year. Approximate dates are provided based on past programs; students should expect them to vary by year.  Please refer to the program calendar below for specific information about program dates. 
Full Year: September through mid-August
Spring Semester Only: Mid-February through mid-August
Housing
Students may choose to apply for student dormitory housing through Humboldt University or live in independent housing. Students who opt for student housing are initially housed in temporary housing arranged by the program until March 1. Student dormitories (Wohnheime) vary in standard and price, and are not located in the city center. Travel time to the main campus is about 50 minutes. Available student dorms are limited and assigned by lottery. 
Students who chose independent housing must find their own housing with the help of the on-site coordinator. We recommend looking for housing before arriving; however, students looking for independent housing can also stay in temporary housing during the orientation period (until March 1). Throughout the orientation period, students work with the on-site coordinator and local housing agencies to find a room, typically in a shared apartment, where they will live with local students or young Berliners for the remainder of the semester or year.
Eligibility and Requirements
The Brown in Germany program in Berlin is open to Brown and visiting undergraduate students. Students must be in good academic standing.  Students must have completed Intermediate German I/GRMN 0300 (third-semester college-level German), or the equivalent (Intermediate level track) or Twentieth-Century German Culture/GRMN 0500 (fifth-semester college-level German language), or the equivalent (Advanced level track) before beginning studies in Germany.  
Application Instructions
Apply by the deadline using Brown's online application system. Applications to host universities typically require faculty recommendations, so it is important to begin the process early.
Related Files
Related Links